Whenever one thinks of vacation, being lazy and doing nothing is what comes to mind. But have you ever considered taking a fitness vacation? This is something that is trending these days, especially in Thailand. For those who do not understand what this fitness vacation is, let's talk a little about it.
Fitness vacation, as the name suggests is one of the ideas that is becoming viral among those who wish to stay fit during their vacation. Today, many accommodations come with different recreational, fitness, and exploring activities, all packaged together. There are many people out there who look forward to going on a fitness vacation with the mere motive of achieving their fitness goals, both physical and mental.
If you are among those who wish to go on this type of vacation, here, we are going to discuss some great fitness vacation ideas in Thailand.
Learn Swimming
Thailand is known for its beautiful beaches and if you are planning to learn to swim, there are many trainers out there who can help you learn it. There are many renowned swimming schools that you can join while on vacation in Thailand. Some of these centres are – Best Aquatic Centre, Phuket Country Home Swimming classes, etc. So, if you are willing to learn to swim, Thailand is the best place for you where you can enjoy your holidays while learning to swim.
Joining Muay Thai Camp
Muay Thai is one of the best and most extreme sports that help keep people in their best shape. If what you are looking for is a fitness vacation in Thailand, joining a Muay Thai camp is the best idea for you. This will not only help you achieve your fitness goals but will also boost your confidence, help you get self-defence ready, and more. There, certainly, are many benefits of joining a Muay Thai Camp in Thailand. You can check our blog on the benefits of Muay Thai to know more.
For those who don't know what Muay Thai is, let's understand a little more about it. Muay Thai is also known as "Thai Boxing". It is a national sport of Thailand that dates back to the 13th century during the time of the Sukhothai Kingdom. It is also known as the "Art of 8 limbs" as it involves the use of 8 points of contact including punches, knees, kicks, and elbows. It wouldn't be wrong to say that it is a traditional Thai martial art.
Some great Muay Thai Camps in Thailand –
a) Battle Conquer
b) Honour Muay Thai-Ao Nang Krabi
c) Jun Muay Thai
Enrolling In Yoga Retreat
Another great fitness vacation idea is to join a yoga and meditation camp in Thailand. Many great yoga centres in Thailand are renowned for their excellence and yoga training. If you are someone who practices yoga or is looking to learn yoga, there is no better place than Thailand. Thailand has a rich history that defines Thailand as a primary source of practising Yoga and meditation. Considering this, Thailand is considered to be one of the best places to learn it.
List of best Yoga camps in Thailand –
a) Battle Conquer
b) Vikasa
c) Island Yoga
d) Xhale Yoga
Our blog on the tips to find the best yoga retreat in Thailand might also interest you.
Gyming
Most of the accommodations in Thailand come with a gym. Considering this, if you are looking for ways to stay fit on vacation? Gyming is the finest idea of all since you get access to the gym all day.
Cycling Camps
Cycling is a thrilling way of keeping fit. While on vacation in Thailand, you can involve yourself with a group of cycling enthusiasts. This is another very popular and loved way of stayong fit on a vacation. In addition to keeping you fit, it also will provide a good commutation source while you are there. You can explore the place & blend with locals while cycling. It also allows you to take in the fresh air and enjoy the scenic beauty of the place. You can easily find a facility offering bicycles for rent.
Learning Kick Boxing
Another very cool way of staying fit during your vacation in Thailand is to learn kickboxing. There are many centres spread across Thailand that offer kick-boxing classes, especially in Phuket, Bangkok, Koh Samul, and Ayutthaya. Some camps offer a complete training program which lasts for a month or several months. One such camp is organized by Battle Conquer. They have many different fitness packages which you can enrol in. Explore different fitness packages here.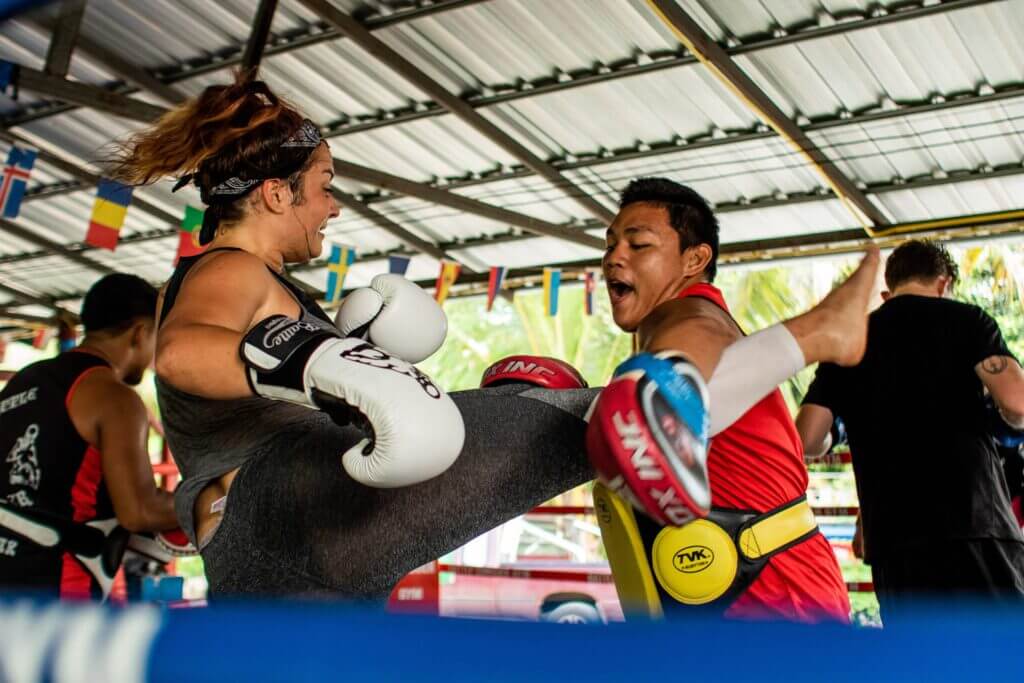 Go Hiking & Trekking in Thailand
Hiking & trekking is another very cool and popular idea to stay fit while on vacation. There are many fascinating hiking &trekking locations in Thailand like rocky cliffs in Railay Beach in Krabi, Khao Sok National Park, Phi Phi Islands, and more. Each one of these places has a brilliant sight. So, if you are a hiking or trekking enthusiast, this is the best idea for you to stay fit while on vacation in Thailand.
Bottom Line
These are some cool fitness vacation ideas in Thailand. Each one of the points mentioned above come with a unique set of health benefits. Where it will help you stay fit during your vacation, there, it also boosts the excitement of being on a vacation in a serene and beautiful place like Thailand. Thailand is hands-down the best tourist place in the world that is full of excitement and thrill. Where you have some beautiful beaches there, the food in Thailand is also quite remarkable. The tropical beauty of Thailand, string of ancient temples, and vibrant nightlife of Thailand have made it one of the most frequently visited tourist destinations in the world. Adding on to the reasons why you should visit Thailand are these different fitness camps and ideas.
We hope this article helps you stay fit while you are on vacation in Thailand.